God Gives Special Kids to Special People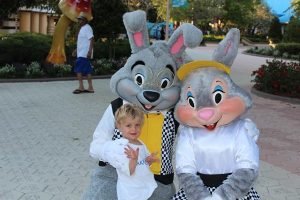 Approaching this May is the one-year anniversary of our family trip to Give Kids the World Village – where happiness inspires hope.
Give Kids the World provides family accommodations and access to donated theme park tickets for children with life-threatening illness and their families. This nonprofit partners with corporations for volunteers and donations to complete the week-long, cost-free resort package that they provide through wish granting foundations like Make-a-Wish.
Conceived by one big-hearted man, embraced and supported by many generous individuals, corporations, and wish-granting organizations. Simply awe-inspiring.
Give Kids The World
Give Kids The World Village, located in Kissimmee, Florida, is one of the most awe inspiring places that I have ever had the honor and pleasure of visiting. Founded by Henri Landwirth in 1989 to provide a home-away-from-home for children receiving wishes from foundations like Make-A-Wish. Give Kids The World motto is "Where happiness inspires hope."
One year ago this May, our family had the gift of spending one happy week together at Give Kids The World Village. It was a magical week spurred on by my son Grady's wish to meet Buzz Lightyear, a fictional character in the Toy Story movies. His wish was granted by Make-A-Wish and resulted in a trip to Disney along with family accommodations at Give Kids The World Village (GKTW). GKTW was whimsical, fun, entertaining, engaging, and at the same time, comfortable and cozy. The perfect place for kids.
With the help of full-time staff and many, many volunteers, GKTW cared for us with a high-degree of joy and kindness. All were there for a reason. Some had reasons to volunteer that are very close to their heart, like grand-children that had received a wish there. Others had wonderful thoughts and talents to share, or a passion for dressing up and making kids smile.
Just recently, I revisited their website and learned that they were featured on Extreme Home Makeover in January of this year. After 4,000 gallons of paint, 3,000 electrical outlets and light switches, and 100,000 sq. ft. of flooring material, and much, much more, the Give Kids The World "Extreme Village Makeover" is complete. With the help and hard work of thousands of individuals, 88 of the 25-year-old villas were remodeled in just two weeks.
The aesthetics and scheduling at GKTW are all designed with kids at top of mind. They combine all fun ideas and holidays into one week of festivities for their weekly guests of honor, the children. We were there for Christmas, Halloween, a birthday party and a pirate and princess party… All in the beginning of May. Then there was ice cream, any time of day and as much as you wanted. And carousel rides on a moments notice. We rode the carousel at least five times daily, sometimes more. Before breakfast, after breakfast, before dinner, after dinner, and after evening events.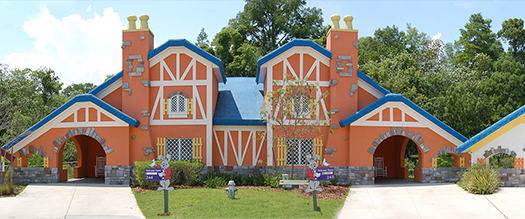 Our experience at Give Kids The World Village was life changing and inspiring. The experience brought us all closer together, to be able to devote so much uninterrupted time to having fun together. Give Kids The World Village is truly a beautiful place, filled with beautiful people bringing happiness and hope to many families.
Until recently, my daughter wanted to be the tooth fairy when she grows up. It has now changed to a "real life sleeping beauty." Our visit sparked her imagination and playful-side as much as it has mine, my husband's and Grady's.
"Over 127,000 children have had their dream come true at Give Kids The World. No child in need has ever been turned away – and no child ever will. Give Kids The World is a place where families find joy, laughter, serenity, and a lifetime of memories. Through the tireless support of our volunteers, employees and generous partners, we dedicate each and every day to these special families." – Give Kids the World, Where Happiness Inspires Hope